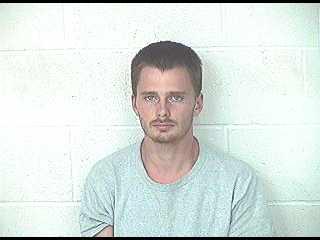 In the earlier morning hours of Weds 05/07/2014 Authorties in Valdosta GA arrested a man wanted in Both Prentiss County Ms and Belmont, Ms. The Prentiss County charges stems from an attempt to arrest him on the Belmont charges. On Friday 04/25/2014 Prentiss County Deputies attempted to stop Anthony R Perry 24 of Prenitss County by intiating a traffic stop on HWY 364. Perry fled the Officer but very soon afterward lost control of the vehicle he was driving and fled into the woods. Shortly thereafter we began getting reports of burglaries of residences in the general area of the incident. A search throughout the night left authorities empty handed. The following day in the sourthern central part of the county an individual fitting Perry's description approached a residence on a bicycle, abandoned the bicycle (which is possibly stolen) and took a Black 1991 Chevrolet S10 Truck bearing Prentiss County License plates.
We later confirmed that the individual was in fact Perry that stole the Pickup. We tracked the suspect from Prentiss County to Savannah Tennessee to Nashville Tennessee then where he was ultimately captured in Valdosta Georgia. this morning. He is being held there on minor charges awaiting extradiation back to Mississippi.
Perry could face charges in other states, stemming from crimes he may have committed while on the run.
I am proud of the efforts put out by everyone involved in bringing this case to a conclusion and no one got hurt in the process.
Perry will be facing multiple counts of Burglary of a Dwelling and a Charge of Grand Larceny (The S10 Pickup) in Prentiss County and charges of Possession of Stolen Property in Belmont.
We have not recovered the Black S10 at this point, which may still be in the Savannah or Nashville Area.