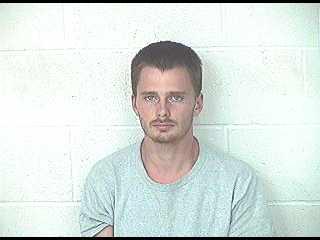 Friday evening April 25th, around 7 PM an Officer briefly pursued and individual wanted from another jurisdiction. He was wanted for property related crimes. He quickly lost control of vehicle and abandoned it. We started intensively searching for him in the woods, calling in assistance from Booneville Police Department. Afterward, around 9 PM we began receiving reports of a young white male breaking into several houses in the general area. He was confronted in a couple of the incidents by the occupants of the residences then fled. No one owas hurt. We searched throughout the night and continue to attempt to locate the individual. Saturday April 26th between 3-3:30pm , the theft of a 1991 Black S10 Pickup, standard cab, was reported stolen south of Booneville. The individual rode up on a bicycle, abandoned it, then took the pickup.
The individual is being identified as Anthony Ray Perry 24 white/male of this area. 5'5"-5'6" in height, 120-130 lbs short brown hair and Blue Eyes He is wanted for the original charges from the other jurisdiction and charges stemming from the incidents occurring Firday night and after.
Anyone with information about Perry please contact the Prentiss County Sheriff's Office Investigations Division or call Crimestoppers at 1-800-773-TIPS(8477) for a cash award if the information leads to his arrest.