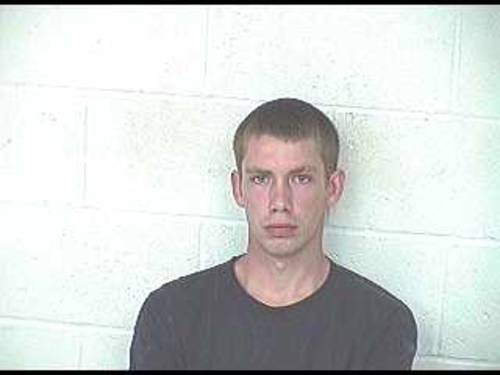 At approx. 12:39PM Prentiss County Sheriff's Dapartment had an inmate escape from custody. An Officer had transported the inmate to the Doctor and had stopped by Booneville Discount Pharmacy to have his prescription filled. While in the Pharmacy the inmate, identified as Matthew Branch Arnold 24 of Booneville, kicked out the back door glass
and and fled on foot, Witnesses descibed what they saw and provided information that helped us narrow down the scope of our search. The inmate was dressed in all orange and had both leg restraints and handcuffs. He was cuffed behind his back. After about a hour of seaching Deputy Keith Lovell spotted him attempting to cross a ditch that runs East and West between Metro Cast Cable Company and Unity
Broadcasting. He then eluded searching Officers by hiding, crawlingunder an overhang in the ditch bank with the only thing visible being his nose up. Detective Jerry Bridges with the Booneville Police Department spotted the murky water and looked closer and recognizing Arnold almost completely submerged under the overhang. He was taken back into custody at 1:49PM. Prentiss County Sheriff's Office, Booneville Police Department, Northern District Constable Sammy Henderson, the Prentiss County Coroners Office and a host of other volunteers assisted in the search.
Arnold was being held since June 13th on Burglary and Larceny charges stemming from a burglary of a building in Booneville. His bond had been set at $5,000. He will be facing additional charges of Felony Escape.
We appreciate everyone's help in capturing Arnold.
Sheriff Randy M Tolar